Amateur Porn Sites
Amateur porn is very exciting and features girls getting fucked in real life situations. I'm talking about videos that show actual boyfriend / girlfriend sex, swingers hooking up / wife swapping or even scenes showing real girls picked up and fucked by random dudes for cash. This type of porn is surely not staged or faked in any way as it's all authentic and guess what? Surfers love that about these porn sites! Here in this category, you're going to see our list featuring amateur porn sites we've reviewed. We ranked these reviews from best to worst for your convenience below. If you're looking for a good site to join without doing too much reading, you should definitely see our top ranked sites like Casting Couch X, ATK Exotics and Girls Out West before you travel further down the list.
Learn more about amateur porn in Wikipedia.
1st Place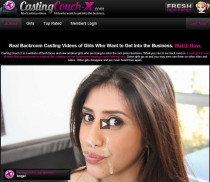 What an incredible site, and it is done extremely well, even though the basic idea has been done numerous times, there's something special about this site. It may well be that the girls are superb, it may have to do with the high quality of videos as well as the pictures, but we feel as if you will be quite pleased with this site. This...
2nd Place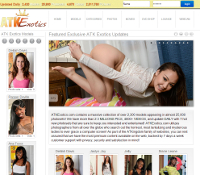 ATK Exotics is an extensive online community dedicated to "exotic amateurs" of every type imaginable. I admit I was really hesitant to go any further that the tabloid-style yet easy to use main page because I was struck by how "normal" looking the featured girls are. I mean really, really "normal" looking about as far...
3rd Place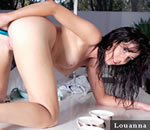 This site is one of the most visitor oriented sites I've yet to review. Everything is geared so that everyone enjoys the site, including the girls themselves, as well as the visitors. I had originally wished they would have streaming on their site, but again they are so adept at satisfying their visitors, it was in the works...
Amateur Porn Site Reviews
| No | Review | Site | Our Price | Discount | Video/Pic Galleries | Review Score |
| --- | --- | --- | --- | --- | --- | --- |
| 1 | | | $17.95 | 40% | 149/149 | 96 |
| 2 | | | $29.95 | | 8000/26000 | 93 |
| 3 | | | $29.95 | | 5350/20500 | 92 |
| 4 | | | $29.95 | | 4169/24300 | 91 |
| 5 | | | $29.50 | | 1239/1239 | 91 |
| 6 | | | $29.95 | | 4722/13200 | 91 |
| 7 | | | $19.95 | 33% | 1275/1275 | 90 |
| 8 | | | $19.95 | 33% | 6520/1445 | 90 |
| 9 | | | $29.95 | | 3540/8200 | 90 |
| 10 | | | $29.95 | | 1450/2565 | 90 |
| 11 | | | $29.99 | | 3399/7600 | 90 |
| 12 | | | $17.45 | 30% | 1473/0 | 90 |
| 13 | | | $21.17 | | 680/718 | 90 |
| 14 | | | $14.99 | 50% | 797/797 | 89 |
| 15 | | | $14.99 | 49% | 705/705 | 89 |
| 16 | | | $24.99 | | 2992/32783 | 89 |
| 17 | | | $17.95 | 40% | 336/336 | 88 |
| 18 | | | $29.87 | | 650/635 | 88 |
| 19 | | | $17.95 | 28% | 3745/3745 | 88 |
| 20 | | | $14.95 | 50% | 2500/4200 | 88 |
| 21 | | | $29.95 | | 602/316700 | 87 |
| 22 | | | $14.99 | 50% | 239/239 | 87 |
| 23 | | | $29.95 | | 323/287 | 87 |
| 24 | | | $14.99 | 49% | 175/175 | 86 |
| 25 | | | $24.88 | | 990/1740 | 85 |
| 26 | | | | | 840/1900 | 85 |
| 27 | | | | | 495/495 | 85 |
| 28 | | | | | 64/251 | 85 |
| 29 | | | | | 870/336 | 85 |
| 30 | | | $29.95 | | 750/750 | 85 |
| 31 | | | $14.87 | 50% | 165/165 | 85 |
| 32 | | | | | 80/80 | 84 |
| 33 | | | $29.95 | | 2453/8200 | 84 |
| 34 | | | $29.95 | | 386/129 | 84 |
| 35 | | | $9.95 | 66% | 84/9 | 84 |
| 36 | | | $29.95 | | 497/497 | 84 |
| 37 | | | $17.95 | 40% | 189/189 | 83 |
| 38 | | | | | 20/100 | 83 |
| 39 | | | $17.95 | 28% | 565/482 | 83 |
| 40 | | | $29.95 | | 705/370 | 83 |
| 41 | | | $14.99 | 49% | 335/335 | 83 |
| 42 | | | $17.95 | 40% | 37/37 | 83 |
| 43 | | | $29.95 | | 2889/2094 | 83 |
| 44 | | | | | n/a | 82 |
| 45 | | | | | 400/200 | 82 |
| 46 | | | $29.32 | | 15/11 | 82 |
| 47 | | | | | 38/38 | 81 |
| 48 | | | | | 4900/2200 | 81 |
| 49 | | | | | 180/180 | 81 |
| 50 | | | | | 48/48 | 81 |
| 51 | | | | | 144/450 | 81 |
| 52 | | | $14.95 | 50% | 870/710 | 81 |
| 53 | | | $14.99 | 49% | 150/150 | 81 |
| 54 | | | | | 7000/9500 | 81 |
| 55 | | | | | 2844/6550 | 81 |
| 56 | | | | | n/a | 81 |
| 57 | | | | | 2300/570 | 81 |
| 58 | | | $14.76 | 50% | 32/32 | 81 |
| 59 | | | | | 105/118 | 80 |
| 60 | | | $17.95 | 28% | 2295/2295 | 80 |
| 61 | | | | | 40/10 | 80 |
| 62 | | | $17.99 | 40% | 180/180 | 80 |
| 63 | | | $14.99 | 50% | 492/492 | 80 |
| 64 | | | | | 300/1071 | 80 |
| 65 | | | $29.95 | | 75/75 | 80 |
| 66 | | | $14.87 | 50% | 36/36 | 80 |
| 67 | | | $17.95 | 40% | 26/26 | 80 |
| 68 | | | $14.99 | 49% | 11/11 | 80 |
| 69 | | | $14.87 | 50% | 144/144 | 80 |
| 70 | | | $14.95 | 50% | 32/32 | 80 |
| 71 | | | $29.95 | | 324/324 | 80 |
| 72 | | | $24.95 | | 350/0 | 80 |
| 73 | | | $29.95 | | 98/98 | 80 |
| 74 | | | $29.95 | | 194/150 | 80 |
| 75 | | | $29.95 | | 109/109 | 80 |
| 76 | | | $14.95 | | 1100/950 | 80 |
| 77 | | | $29.95 | | 1260/1357 | 80 |
| 78 | | | $17.45 | | 442/0 | 80 |
| 79 | | | $24.95 | | 287/0 | 80 |
| 80 | | | $34.95 | | 794/227 | 80 |
| 81 | | | $34.95 | | 3135/660 | 80 |
| 82 | | | $29.00 | | 223/229 | 80 |
| 83 | | | $19.99 | | 18/0 | 80 |
| 84 | | | $17.95 | 40% | 24/24 | 79 |
| 85 | | | | | 114/633 | 79 |
| 86 | | | $24.95 | | 320/320 | 79 |
| 87 | | | | | 240/300 | 79 |
| 88 | | | | | 10000/10000000 | 79 |
| 89 | | | $24.95 | | 172/174 | 79 |
| 90 | | | | | 1500/500 | 78 |
| 91 | | | $29.95 | | 78/82 | 78 |
| 92 | | | | | 1500/1500 | 78 |
| 93 | | | $29.95 | | 302/60 | 78 |
| 94 | | | | | 250/1000 | 78 |
| 95 | | | | | 570/192 | 78 |
| 96 | | | $17.95 | 28% | 61/61 | 78 |
| 97 | | | $27.99 | | 118/115 | 78 |
| 98 | | | $14.95 | 50% | 284/284 | 78 |
| 99 | | | $29.95 | | 42/0 | 78 |
| 100 | | | $29.95 | | 33/33 | 78 |
| 101 | | | $17.87 | 40% | 8/8 | 78 |
| 102 | | | $29.95 | | 35/35 | 78 |
| 103 | | | $24.96 | | 3348/5140 | 77 |
| 104 | | | | | 250/675 | 77 |
| 105 | | | | | 0/62 | 77 |
| 106 | | | $29.95 | | 513/0 | 77 |
| 107 | | | $14.95 | 50% | 39/30 | 77 |
| 108 | | | $29.90 | | 74/74 | 77 |
| 109 | | | $19.99 | | 177/0 | 77 |
| 110 | | | $27.95 | | 81/81 | 77 |
| 111 | | | | | 18/622 | 76 |
| 112 | | | $29.95 | | 39/39 | 76 |
| 113 | | | | | 175/162 | 75 |
| 114 | | | $39.95 | | 30/0 | 75 |
| 115 | | | | | 70/70 | 75 |
| 116 | | | | | 15/78 | 75 |
| 117 | | | | | n/a | 75 |
| 118 | | | $29.73 | | n/a | 75 |
| 119 | | | $29.95 | | 132/132 | 75 |
| 120 | | | $29.95 | | 161/44 | 74 |
| 121 | | | $29.95 | | 569/295 | 74 |
| 122 | | | $14.99 | 50% | 87/87 | 73 |
| 123 | | | $29.95 | | 11/22 | 73 |
| 124 | | | | | 18/42 | 72 |
| 125 | | | | | 162/303 | 72 |
| 126 | | | | | 17/0 | 72 |
| 127 | | | $19.95 | 33% | 26/26 | 71 |
| 128 | | | | | 9/9 | 71 |
| 129 | | | $18.95 | | 354/200 | 71 |
| 130 | | | $14.99 | 50% | 25/25 | 71 |
| 131 | | | | | 63/79 | 70 |
| 132 | | | | | 32/43 | 70 |
| 133 | | | $14.99 | 50% | 33/33 | 70 |
| 134 | | | $14.99 | 50% | 28/28 | 70 |
| 135 | | | $29.95 | | 184/57 | 70 |
| 136 | | | $29.73 | | 87/110 | 70 |
| 137 | | | $17.87 | 40% | 23/23 | 70 |
| 138 | | | $29.95 | | 118/60 | 70 |
| 139 | | | $29.95 | | 74/18 | 70 |
| 140 | | | $19.95 | 33% | 10/10 | 68 |
| 141 | | | $17.99 | 39% | 17/17 | 68 |
| 142 | | | $19.95 | 20% | 75/75 | 68 |
| 143 | | | $29.95 | | 44/24 | 66 |
| 144 | | | | | 12/0 | 65 |
| 145 | | | $29.95 | | 49/102 | 64 |
| 146 | | | $19.95 | | 32/10 | 62 |
| 147 | | | $39.95 | | 20/0 | 45 |
| 148 | | | $19.95 | 20% | 38/38 | 45 |
| 149 | | | | | n/a | 40 |
| 150 | | | $24.95 | | 3500/6750 | 0 |
| 151 | | | | | 80/10 | 0 |
| 152 | | | $29.99 | | 15/15 | 0 |
| 153 | | | $24.95 | | 60/40 | 0 |
| 154 | | | | | 50000/8000 | 0 |
| 155 | | | | | 210/4000 | 0 |
| 156 | | | | | 12000/4500 | 0 |
| 157 | | | | | 190/80 | 0 |
| 158 | | | | | 16/16 | 0 |
| 159 | | | | | 500/300 | 0 |
| 160 | | | | | 31/31 | 0 |
| 161 | | | | | 55/15 | 0 |
| 162 | | | $24.95 | | 34/34 | 0 |
| 163 | | | $24.95 | | 37/37 | 0 |
| 164 | | | | | 208/12 | 0 |
| 165 | | | $34.95 | | 872/1485 | 0 |
| 166 | | | | | 350/350 | 0 |
| 167 | | | $24.67 | | 9490/84320 | 0 |
| 168 | | | | | 46/46 | 0 |