Fetish Porn Sites
If you're someone who has a particular quirk or an extreme interest when it comes to a certain body part, activity or type of woman you've definitely got a fetish. Fetishes range from the kinky side of things (BDSM, bondage, spanking) to clothing which includes the act of wearing latex and rubber items. There's no shortage of things in porn that deem them compatible in the fetish category. You're going to have a lot of fun clicking through our collection of porn sites that are fetish related. We talk about them in our reviews to help you get a better idea or understanding of what's offered so you can make a decision best for you. We wish you good luck in your search for good fetish porn!
1st Place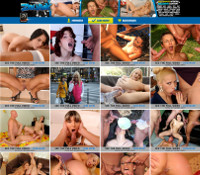 Zoliboy is a great site for those looking for loads of high quality kink. Content is all exclusive and with a hot network of sites included at no extra cost you will find a massive number of extreme niches covered here. With a discounted price for membership and so much content on offer it is easy to recommend you join...
2nd Place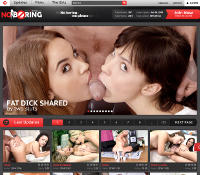 Teen Mega World is one of the leading teen hardcore networks around and your signup price is well worth paying, no matter what it is. No Boring leans towards the fetish side of things with exclusive and well-made toy-play, fisting and mild-fetish movies that come in HD formats, with plenty of other options, excellent images...
3rd Place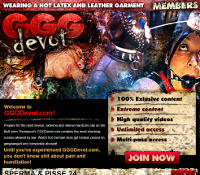 If you are after extreme hardcore fetish action, in the piss, cum, fisting and anal areas of fetish, then you will love this site and soon become a GGG Devot devotee. There is a nice number of full length DVDs, and lots of extra movies too, good quality, HD and decent galleries and plenty of extras....
Fetish Porn Site Reviews
| No | Review | Site | Our Price | Discount | Video/Pic Galleries | Review Score |
| --- | --- | --- | --- | --- | --- | --- |
| 1 | | | $9.95 | 66% | 1292/1292 | 90 |
| 2 | | | $19.95 | 33% | 221/221 | 88 |
| 3 | | | $34.95 | | 83/83 | 85 |
| 4 | | | $9.95 | 66% | 302/302 | 85 |
| 5 | | | $19.99 | | 511/511 | 84 |
| 6 | | | $29.95 | | 386/129 | 84 |
| 7 | | | $29.95 | | 497/497 | 84 |
| 8 | | | $34.99 | | 70/70 | 83 |
| 9 | | | $19.99 | | 204/205 | 83 |
| 10 | | | $19.95 | 33% | 200/0 | 83 |
| 11 | | | $19.99 | | 404/389 | 82 |
| 12 | | | $29.95 | | 11100/1700 | 82 |
| 13 | | | $19.99 | | 25/25 | 81 |
| 14 | | | $34.95 | | 38/38 | 81 |
| 15 | | | $14.95 | 50% | 1170/1267 | 80 |
| 16 | | | $29.95 | | 84/84 | 80 |
| 17 | | | $29.99 | | 124/124 | 80 |
| 18 | | | $34.95 | | 219/219 | 79 |
| 19 | | | $14.95 | 50% | 242/76 | 79 |
| 20 | | | $29.90 | | 25/25 | 79 |
| 21 | | | $14.95 | 50% | 72/58 | 78 |
| 22 | | | $17.95 | 40% | 6/6 | 78 |
| 23 | | | $29.95 | | 293/293 | 78 |
| 24 | | | $34.95 | | 43/22 | 78 |
| 25 | | | $29.90 | | 29/29 | 78 |
| 26 | | | $39.95 | | 40/78 | 78 |
| 27 | | | | | 225/91 | 77 |
| 28 | | | $29.95 | | 37/37 | 77 |
| 29 | | | $29.95 | | 89/89 | 77 |
| 30 | | | $29.95 | | 132/132 | 77 |
| 31 | | | $34.95 | | 330/0 | 75 |
| 32 | | | $39.95 | | 21/21 | 75 |
| 33 | | | $24.95 | | 11/12 | 75 |
| 34 | | | $29.95 | | 28/28 | 75 |
| 35 | | | $14.87 | 50% | 8/8 | 72 |
| 36 | | | $24.95 | | 11/12 | 72 |
| 37 | | | $39.95 | | 18/14 | 70 |
| 38 | | | $29.95 | | 452/22 | 70 |
| 39 | | | $29.95 | | 84/84 | 0 |