Sex Toys Porn Sites
The use of sex toys in porn have definitely made things interesting and enjoyable for the girls starring in many of the porn sites we have listed on this page. Anyone looking for a different take on porn featuring female masturbation should consider reading our sex toy porn reviews here. We have sites like Fucking Machines which utilizes highly powered dildo machines to give these girls world class orgasms in front of the camera. Perhaps, you want to see girls shoving enormously large dildos inside of their tight pussies? We recommend the site called Brutal Dildos for that! And finally, we have Give Me Pink is a less invasive masturbation site that shows girls playfully enjoying themselves in front of the camera. The thing each of these sites have in common is that they're based around masturbation and sex toys. We have more review listings that show girls masturbating with toys. You can read them below in ranking of best to worst for your convenience.
1st Place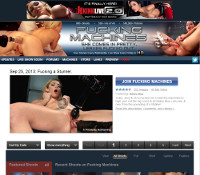 Fucking Machines isn't women getting fucked with normal vibrators and dildos, even the seemingly technologically advanced sybian is out of place on this site. The machines featured look like they could be in a Terminator movie, and not a porn site. Still, seeing these seemingly futuristic machines going head to head with stars...
2nd Place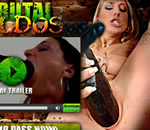 Brutal Dildos is one interesting site, filled with dongs that you swear won't fit up the anatomy of the females who do accomplish it, somehow! The site is absolutely filled with quality videos as well as high quality pictures with tons of bonus content! Updates come in weekly, so this is not a dying site!...
3rd Place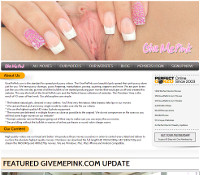 In conclusion if ever a near perfect hardcore porn site existed, this one would definitely be the winner. The girls are all near perfect, and the technical processes are all as close to perfect as they can be. This entails multiple bandwidths, and Hi Def videos, as well as Hi Res pictures. Part of the perfection is that all the...
Sex Toys Porn Site Reviews
| No | Review | Site | Our Price | Discount | Video/Pic Galleries | Review Score |
| --- | --- | --- | --- | --- | --- | --- |
| 1 | | | $19.95 | 33% | 439/473 | 90 |
| 2 | | | $19.95 | 50% | 955/955 | 90 |
| 3 | | | $29.99 | | 152/152 | 88 |
| 4 | | | $29.99 | | 474/474 | 88 |
| 5 | | | $29.95 | | n/a | 86 |
| 6 | | | $29.95 | | 900/700 | 85 |
| 7 | | | $14.99 | 49% | 292/292 | 84 |
| 8 | | | $29.95 | | 952/952 | 84 |
| 9 | | | $29.95 | | 1095/341 | 80 |
| 10 | | | | | 18/18 | 80 |
| 11 | | | $14.87 | 50% | 144/144 | 80 |
| 12 | | | $19.99 | | 158/158 | 80 |
| 13 | | | $29.95 | | 160/150 | 78 |
| 14 | | | | | 52/35 | 76 |
| 15 | | | $24.95 | | 11/12 | 75 |
| 16 | | | $32.21 | | 30/18 | 73 |
| 17 | | | $19.98 | | 110/32 | 70 |
| 18 | | | $14.99 | 50% | 33/33 | 70 |
| 19 | | | $19.95 | 33% | 10/10 | 68 |
| 20 | | | $19.95 | | 32/10 | 62 |
| 21 | | | | | 474/32 | 0 |
| 22 | | | $29.95 | | 64/100 | 0 |
| 23 | | | $24.95 | | 365/365 | 0 |
| 24 | | | $24.95 | | 175/18 | 0 |
| 25 | | | $29.95 | | 142/142 | 0 |