Reality Porn Sites
Have you ever seen porn scenes where the girls are picked up in public, then coerced into fucking? How about when girls get banged in the office? These types of scenes are based on the reality niche which essentially means its porn with real life situations. The allure of this porn is that you can relate to these types of porn sites because the scenarios are more believable. We've got a bunch of reality reviews for you to read about which highlight the positive and negative aspects of joining each site. We rank these reviews based on overall score and lay them out in the table below to help make it easier for you to make an infromed decision on what porn site you should join. Alternatively, you're going to find our top three picks too which gives you three hot reality porn sites that we think you'll love that outrank the other sites we've listed. By all means take your time and read each review carefully as it's important to make sure you're getting what you want out of a porn site.
1st Place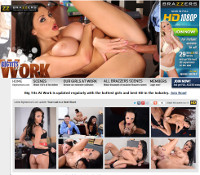 In conclusion, if youve ever had an office/secretary fantasy and would like to live it again in a site, Brazzers has found your fantasy and filmed it! Besides who can go wrong with HD videos, constant weekly updates, and an immense library backed up by a free pass to a jumbo network with related bonuses? ...
2nd Place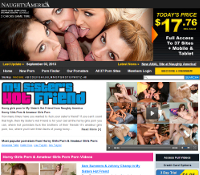 In conclusion this is an exceedingly valuable site what with its tendency to offer Hi Def videos. After all they have been remastering older videos, and they also present some of the uppermost quality of pictures. The huge quantity of material here is absolutely overwhelming , as is the vast number of bonus sites involved. ...
3rd Place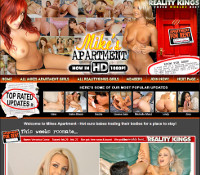 In conclusion, there is a reason why this particular site has lasted so long, and that is that its that damn good! This very solid site not only has some of the hottest Euro models around, fantastic porn, as well as HD content, but also the Network has dedicated themselves to making the site grow with high quality, and it truly...
Reality Porn Site Reviews
| No | Review | Site | Our Price | Discount | Video/Pic Galleries | Review Score |
| --- | --- | --- | --- | --- | --- | --- |
| 1 | | | $14.95 | 62% | 10000/10000 | 98 |
| 2 | | | $14.97 | 50% | 7152/7152 | 98 |
| 3 | | | $17.76 | 28% | 5289/4600 | 97 |
| 4 | | | $17.95 | 40% | 4855/4843 | 97 |
| 5 | | | $17.95 | 40% | 149/149 | 96 |
| 6 | | | $17.95 | 28% | 475/475 | 92 |
| 7 | | | $29.99 | | 1600/1600 | 91 |
| 8 | | | $17.95 | 28% | 505/505 | 91 |
| 9 | | | $19.95 | 20% | 345/345 | 91 |
| 10 | | | $17.95 | 28% | 542/542 | 90 |
| 11 | | | $17.95 | 28% | 500/500 | 90 |
| 12 | | | $17.95 | 28% | 515/515 | 90 |
| 13 | | | $17.95 | 40% | 250/250 | 90 |
| 14 | | | $17.76 | 28% | 446/366 | 90 |
| 15 | | | $17.95 | 28% | 545/550 | 90 |
| 16 | | | $17.95 | 28% | 523/523 | 90 |
| 17 | | | $17.95 | 28% | 138/138 | 90 |
| 18 | | | $19.95 | 20% | 258/258 | 90 |
| 19 | | | $19.95 | 20% | 351/351 | 90 |
| 20 | | | $14.95 | 40% | 4890/4890 | 90 |
| 21 | | | $17.76 | 28% | 298/298 | 90 |
| 22 | | | $17.45 | 30% | 1473/0 | 90 |
| 23 | | | $14.95 | 40% | 556/556 | 90 |
| 24 | | | $17.76 | 28% | 144/144 | 90 |
| 25 | | | $17.76 | 28% | 446/446 | 90 |
| 26 | | | $17.95 | 28% | 220/220 | 89 |
| 27 | | | $17.95 | 28% | 157/157 | 89 |
| 28 | | | $17.95 | 28% | 404/404 | 89 |
| 29 | | | $17.95 | 28% | 400/400 | 89 |
| 30 | | | $17.95 | 28% | 552/552 | 89 |
| 31 | | | $19.95 | 20% | 345/345 | 89 |
| 32 | | | $17.95 | 40% | 336/336 | 88 |
| 33 | | | $29.95 | | 1170/1 | 88 |
| 34 | | | $14.95 | 50% | 2500/4200 | 88 |
| 35 | | | $17.45 | 30% | 2250/500 | 88 |
| 36 | | | $17.95 | 28% | 321/321 | 87 |
| 37 | | | $17.76 | 28% | 272/272 | 87 |
| 38 | | | | | 2736/2736 | 86 |
| 39 | | | $14.99 | 49% | 175/175 | 86 |
| 40 | | | $17.95 | 28% | 265/265 | 86 |
| 41 | | | $9.95 | 50% | 591/591 | 86 |
| 42 | | | $17.76 | 28% | 198/198 | 86 |
| 43 | | | $17.76 | 28% | 447/404 | 86 |
| 44 | | | | | 50000/8000 | 85 |
| 45 | | | $29.99 | | 205/205 | 85 |
| 46 | | | | | 71/71 | 85 |
| 47 | | | $29.95 | | 120/120 | 85 |
| 48 | | | $19.95 | 20% | 300/300 | 85 |
| 49 | | | $14.99 | 49% | 227/227 | 85 |
| 50 | | | $25.00 | | 592/269 | 85 |
| 51 | | | $24.95 | | 517/517 | 84 |
| 52 | | | $17.95 | 40% | 96/96 | 84 |
| 53 | | | $14.87 | 50% | 196/196 | 84 |
| 54 | | | $29.99 | | 162/162 | 84 |
| 55 | | | | | 80/80 | 84 |
| 56 | | | $17.95 | 40% | 120/120 | 84 |
| 57 | | | $24.95 | | 294/294 | 84 |
| 58 | | | $14.95 | 40% | 100/100 | 83 |
| 59 | | | $17.76 | 28% | 229/229 | 83 |
| 60 | | | $34.99 | | 355/0 | 82 |
| 61 | | | $17.95 | 28% | 507/507 | 82 |
| 62 | | | $29.88 | | 92/92 | 82 |
| 63 | | | $34.95 | | 173/173 | 81 |
| 64 | | | | | 38/38 | 81 |
| 65 | | | | | 4900/2200 | 81 |
| 66 | | | | | 48/48 | 81 |
| 67 | | | $34.95 | | 872/1485 | 81 |
| 68 | | | $29.95 | | 360/360 | 81 |
| 69 | | | $14.76 | 50% | 32/32 | 81 |
| 70 | | | $14.87 | 50% | 68/68 | 81 |
| 71 | | | | | 300/300 | 80 |
| 72 | | | $29.95 | | 337/337 | 80 |
| 73 | | | $32.21 | | 28/27 | 80 |
| 74 | | | $29.95 | | 75/75 | 80 |
| 75 | | | $14.95 | 50% | 556/240 | 80 |
| 76 | | | $29.95 | | 324/324 | 80 |
| 77 | | | $24.95 | | 350/0 | 80 |
| 78 | | | $17.76 | | 99/99 | 80 |
| 79 | | | $14.95 | 50% | 16/30 | 80 |
| 80 | | | $29.95 | | 194/150 | 80 |
| 81 | | | $17.45 | | 442/0 | 80 |
| 82 | | | $24.95 | | 287/0 | 80 |
| 83 | | | $17.95 | 40% | 24/24 | 79 |
| 84 | | | $17.76 | 40% | 6/6 | 79 |
| 85 | | | $29.95 | | 13/0 | 79 |
| 86 | | | $29.99 | | 15/15 | 78 |
| 87 | | | $29.95 | | 42/0 | 78 |
| 88 | | | $14.87 | 50% | 24/24 | 78 |
| 89 | | | $17.99 | 40% | 21/21 | 78 |
| 90 | | | $17.95 | | 14/14 | 77 |
| 91 | | | $29.90 | | 16/16 | 77 |
| 92 | | | $14.95 | 50% | 6/6 | 76 |
| 93 | | | $29.32 | | 7/7 | 76 |
| 94 | | | $14.87 | 50% | 22/22 | 76 |
| 95 | | | | | 70/70 | 75 |
| 96 | | | $17.95 | 28% | 49/49 | 75 |
| 97 | | | $29.32 | | 11/11 | 75 |
| 98 | | | $29.95 | | 17/15 | 75 |
| 99 | | | $17.76 | 40% | 25/25 | 75 |
| 100 | | | $17.76 | 40% | 8/8 | 75 |
| 101 | | | $19.95 | 20% | 43/43 | 74 |
| 102 | | | $14.87 | 50% | 5/5 | 74 |
| 103 | | | $32.21 | | 30/18 | 73 |
| 104 | | | $17.95 | 28% | 90/90 | 73 |
| 105 | | | $17.95 | 28% | 24/24 | 73 |
| 106 | | | $29.95 | | 100/100 | 72 |
| 107 | | | $17.95 | 28% | 71/71 | 71 |
| 108 | | | $17.95 | 28% | 26/26 | 71 |
| 109 | | | $29.99 | | 30/30 | 70 |
| 110 | | | $17.95 | 28% | 28/28 | 70 |
| 111 | | | $14.98 | 50% | 17/15 | 70 |
| 112 | | | | | 12/0 | 65 |
| 113 | | | $29.71 | | 40/100 | 58 |
| 114 | | | | | 16/16 | 55 |
| 115 | | | | | 700/10 | 0 |
| 116 | | | | | 1400/748 | 0 |
| 117 | | | | | 48000/4900 | 0 |
| 118 | | | $24.95 | | 34/34 | 0 |
| 119 | | | $24.95 | | 37/37 | 0 |
| 120 | | | $29.95 | | 38/38 | 0 |